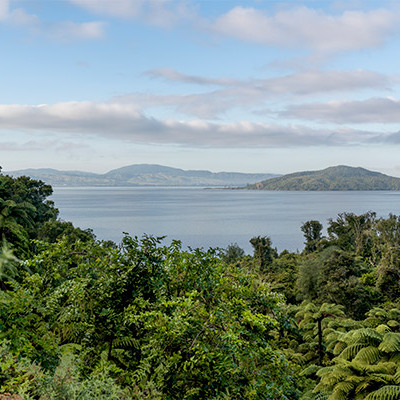 Rules to protect Lake Rotorua formally notified
16 August 2017
Tuesday 15 August marks the formal notification date of Proposed Plan Change 10 after Bay of Plenty Regional Council unanimously adopted an Independent Hearing Panel's recommendations at its Regional Direction and Delivery Committee meeting on 2 August 2017.
Regional Council Chair Doug Leeder says formal notification of the decisions is the next step in the RMA process.
"Submitters on Plan Change 10 have been publicly notified and can lodge an appeal to the Environment Court in the next 30 working days."
The rules are just one part of the solution to meet water quality standards set by the local community, with the level of nitrogen entering the lake needing to reduce by 320 tonnes by 2032. Plan Change 10 introduces rules for rural properties in the Lake Rotorua catchment, to remove 140 tonnes of nitrogen entering the lake from land use.
Leeder says that while a fair amount of farmers are already getting on with making the reductions required there are still farmers who are yet to find out what the Plan Change means for them.
"The environment won't wait so we will continue to work with landowners and farmers to develop a pathway to meet their nitrogen discharge allocation. We also have funding available to revise any completed nutrient management plans based on the revised changes recommended by the hearing panel."
An announcement was made by Council in June offering free resource consents for over 40 hectare farmers ready to take the next step.
"This offer is available until September 30. Landowners in the catchment should call the dedicated landowners' advice line, 07 921 3377, to take up the offer and see what funding and support is available."
Background information
One hundred and forty (140) tonnes will come from Plan Change 10; 100 tonnes will come from voluntary land use change, 30 tonnes from voluntary gorse conversation, and 50 tonnes resulting from the implementation of engineering initiatives.
Plan Change 10 rules have been in development for three years – a process which has included more than two years of public engagement and submissions.
The formal statutory process commenced with the adoption and public notification of the final version of Plan Change 10 in February 2016, with independent hearings held between March and May 2017.
A panel of independent commissioners – all experts in their relevant fields of environmental policy and freshwater ecology – heard submissions from more than 50 individuals, groups and organisations over 15 days between March and May this year.
The independent hearing panel recommended some additional changes to Plan Change 10, particularly in five key areas – a simplified approach for small lifestyle blocks, enabling the potential development of Te Ture Whenua Māori land, a change in nitrogen allowance for non-benchmarked properties and in the 5ha lot threshold, and to clarify the reference file methodology.