Rotoiti Catfish Update
7 October 2016
Earlier this year, between March and June, a total of 391 individual catfish of various sizes, removed from Lake Rotoiti by Regional Council staff. The vast majority of the fish (more than 97%), were caught within Te Weta Bay.
Winter water temperatures cause catfish to slow down and in some cases hibernate, making netting impractical and population spread unlikely.
This has given us an opportunity to shift our catfish control efforts over winter to development of a cordon for installation at the Te Weta Bay entrance. The cordon has been designed to prevent catfish from spreading to other parts of the lake.
We'll be meeting with Te Weta Bay and Ōkere Falls residents on 18 October to discuss cordon plans, and expect to be installing it by the end of this month.
The cordon comprises installation of a net, made of heavy duty shade cloth, across the Te Weta Bay entrance as shown on the map below. Resource consent has been approved for the cordon installation.
There will be a small navigable channel in the middle of the net to allow boat access. Catfish are bottom dwellers so are unlikely to escape via this gap, however we will be monitoring that closely.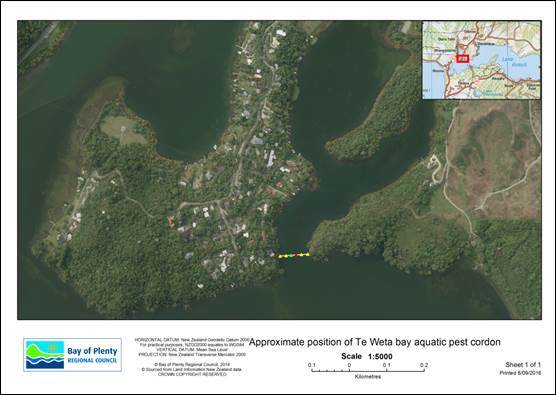 We'll also be re-starting catfish removal work as water temperatures warm up in the coming weeks. This will start with setting nets around Te Weta Bay before cordon installation, to confirm that catfish are still contained there.
We'll be using new, finer meshed fyke nets to improve catch rates and reduce the risk of dabchick by-catch.
Work to progress research opportunities with University of Waikato and NIWA is ongoing, with the aim of increasing knowledge of catfish behaviours and developing eradication options.
We'll continue to provide updates over the coming months as results from this suite of work become available.