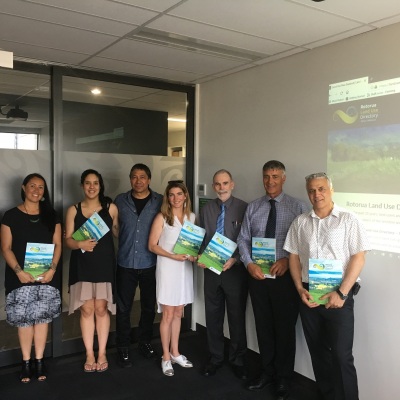 New directory launched to help improve lake water quality
5 December 2017
A Rotorua Land Use Directory to help provide farmers with options for improved lake water quality has been launched by Te Arawa Primary Sector (TAPS) and a collective of Māori owned land trusts who own and administer over 30,000 hectares of land utilised within the primary sector (agriculture, horticulture, forestry and geothermal).
The land use directory was written by Bill Young and Tatiana Kiwi-Knight and has been funded through the $3.3 million Low Nitrogen Land Use Fund, provided by Bay of Plenty Regional Council and Ministry for the Environment.
'Extensive research was undertaken to put the guide together but the idea was to bring together market information and production information to give land users some insight into whether a particular land use may be for them', says Bill Young.
Bay of Plenty Regional Council (BOPRC) chairman Doug Leeder says the guide will be invaluable for landowners as they look at low nitrogen leaching land use options.
"We all want the same thing – a clean lake – and we all have a part to play in order to achieve that. For landowners that will mean making changes to the land to protect and improve lake water quality and we (BOPRC) are committed to supporting them to enable that," says Doug Leeder.
The Low Nitrogen Land Use Fund was established to fund research that assists landowners with reducing the amount of nitrogen entering Lake Rotorua to sustainably meet water quality targets set by the community.
"TAPS should be proud of what they have produced today, both a high quality publication and a user-friendly website which will hopefully inspire a number of new projects as we look to open the fund for expressions of interest in 2018"
The 'Rotorua Land Use Directory – Tahuri Whenua' is available as a website online at www.landusenz.org.nz or as a free hardcopy book from the Bay of Plenty Regional Council Rotorua office, Rotorua Library or at info@landusenz.org.nz. It explores the viability of land uses for the Rotorua catchment including Manuka, feijoa, ginseng and more.
The second round of funding for the Low Nitrogen Land Use Fund will open in 2018.
Caption: (L to R) Ngati Whakaue kaumatua Wiremu Keepa, Te Arawa Lakes Trust Deputy Chair Lana Ngawhika, co-author Tatiana Kiwi-Knight, Te Arawa Primary Sector Chair Dr Tanira Kingi, Bay of Plenty Regional Council Fund Manager Anna Grayling, Deputy Mayor Dave Donaldson, Bay of Plenty Regional Council Chair Doug Leeder and co-author Bill Young were among those present for the launch on Monday 4th December at GHA Centre.