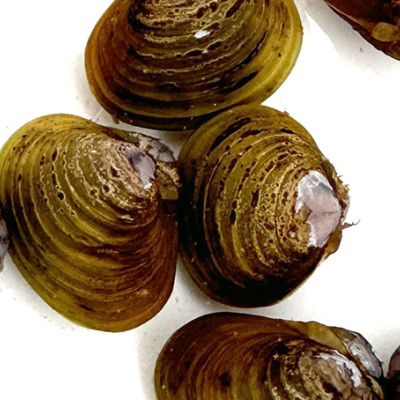 New controls to protect Lake Ōkataina from clams
28 September 2023
Temporary biosecurity rules are being introduced for Lake Ōkataina in the Bay of Plenty as part of a precautionary and balanced approach to reducing risk of spread from the freshwater gold clam.
The lake is being closed for a month, from 1 to 31 October to boating and fishing, through a mechanism called a Controlled Area Notice (CAN) under the Biosecurity Act.
"While the clam has not been found outside of a 99km stretch of the Waikato River, the temporary CAN is in response to a request from Ngāti Tarāwhai, while other options, including boat cleaning stations, are put in place," says Biosecurity New Zealand deputy director-general Stuart Anderson.
The Bay of Plenty Regional Council supports the decision to put a CAN in place to reduce the risk of a biosecurity incursion in the region.
"Lake Ōkataina holds special cultural significance to Ngāti Tarāwhai because it contains a drowned pa site and other submerged Māori archaeological features. It is also a popular trout fishing lake and its popularity with fishers, many who travel from Waikato, makes it vulnerable. It is also a lake of high ecological value, and these features are recognised by certain restrictions already placed on some lake uses," says Mr Anderson.
"Biosecurity New Zealand is taking a cautious and balanced approach to managing this clam that allows people to enjoy our lakes and rivers while protecting them from this invasive shellfish."
Over the temporary closure period, boat cleaning facilities will be installed to provide assurance that boats entering the lake are free of freshwater gold clams.
Cleaning stations will also be installed in the Waikato to help river and lake users meet Check Clean Dry requirements. The first station should be in place in about 3 weeks at Lake Karāpiro and options are being worked through to put cleaning stations at all major boat ramps.
"We appreciate people want to get on Lake Ōkataina at the start of the trout fishing season, but a small sacrifice this month goes a long way towards preserving it for generations to come," says Mr Anderson.
"Once we have the facilities to ensure all boats coming into the lake are clam-free, the lake will be open to enjoy for the remainder of the season."
The CAN prohibits the movement of boats and other watercraft and fishing equipment - including rods, waders and nets – into the lake. The lake can still be enjoyed for other activities such as walking on the shore, picnics and swimming.
People who have a need to continue using boats in the lake during the period can apply for a special permit.
"We continue to work with all parties to protect our freshwater environment from this clam," said Mr Anderson.
"We have completed extensive surveillance of the Waikato River and its wider catchment we have also undertaken surveillance at six national sites so far, with no positive results. We are planning, with regional councils, to carry out surveillance at approximately 80 further sites.
"Surveillance of a number of waterways around Rotorua undertaken by Te Arawa Lakes Trust and Bay of Plenty Regional Council has also found no evidence of the clam.
"We are also planning to run trials to determine the feasibility of suppressing the clam population in the Waikato River and these should be underway by November.
Learn more about the Freshwater gold clam here: Freshwater gold clam (Corbicula fluminea) | NZ Government (mpi.govt.nz)
Media Contact: MPI media team
Phone: 029 894 0328
Email: media@mpi.govt.nz