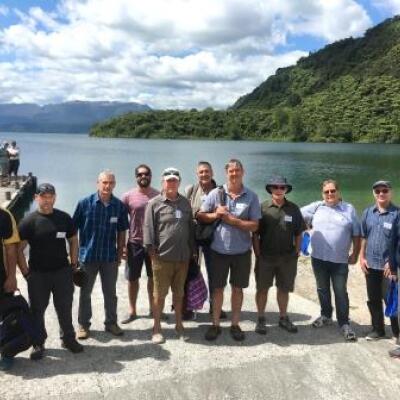 gallery/id/116
4 March 2016
Farmers, ratepayers, tangata whenua and water quality experts got an opportunity to see how the Tarawera Lakes Restoration Plan was developed first hand during a field trip on and around the lake today.
The trip, which was organised by the Bay of Plenty Regional Council, saw the group visit the Tarawera lookout, Hot Water Beach and award-winning farm, Highlands Station.
They heard from iwi, University of Waikato scientists, Regional Council staff and local farmers about the work they are doing to improve water quality and keep the lake healthy for future generations.
The Tarawera Lakes Restoration Plan is aiming to reduce the amount of phosphorus and nitrogen in Lake Tarawera and its seven surrounding lakes that flow into Lake Tarawera. The final draft of the Restoration Plan was approved in December last year.
The plan is part of the Rotorua Te Arawa Lakes Programme partnership between Regional Council, Rotorua Lakes Council, Te Arawa Lakes Trust, with funding from the Ministry for the Environment.
BOPRC Lakes Operations Manager, Andy Bruere, says like the other lake action plans in the programme, the Lake Tarawera plan needs locals and experts to collaborate.
"What we have shown today is that we are all learning from each other and working together to protect and restore water quality in Lake Tarawera for future generations.
"We heard from locals and iwi who are removing silver wattle, the scientists about some of the complexities around the groundwater and farmers who have taken the initiative to implement good practice on their land.
"Putting every lake plan into action requires a united approach and what we heard today is a prime example of that approach being put into action," Mr Bruere says.
Under the Rotorua Te Arawa Lakes Programme, there are current management plans, or management plans being developed for 12 of Rotorua's lakes.
The Strategy for the Lakes of the Rotorua District provides an overall management view of the Rotorua Lakes. It is an overarching policy document that gives a vision for the future, with some practical steps to achieve that vision.