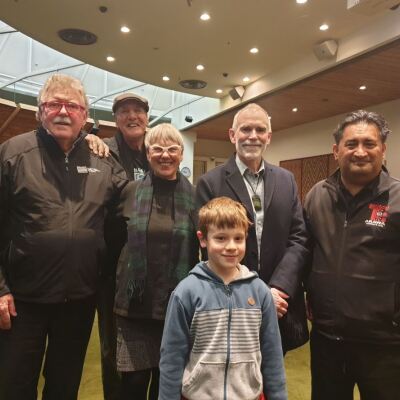 He Huihuinga Rotomoana success
24 July 2019
Bay of Plenty Regional Council Councillor Lyall Thurston, MC Ken Raureti, Rotorua Lakes Council Mayor Stevie Chadwick, Dave Donaldson, TALT trustee Kingi Biddle and Alex Malcolm, who has helped net over 500 catfish netted at one of the hui. Photo/Supplied
A series of hui to highlight the work of Te Arawa Lakes Trust and its programme partners has been a success, with four hui held over recent months.
The hui, open to anyone with an interest in the lakes, are about giving hapū, iwi and wider community members the opportunity to get a deeper understanding about the work being carried out and some of the projects underway to protect our taonga lakes.
A wide range of topics has been covered, from the work underway to improve lake health tracking trace metals, a monitoring project on Lake Okataina looking at koura numbers, the great new innovations in monitoring regimes and buoys, a fascinating presentation on the life of a kakahi, a project by University of Waikato using dogs to sniff our pest fish, and the incredibly successful Te Arawa Catfish Killas volunteer programme.
Te Arawa Lakes Trust Environment Manager, Nicki Douglas says one of the trust's main objectives is to restore the mauri of the lakes; this is being achieved through a combination of natural science and research programmes, hunga tiaki and community activation and the use of matauranga and applying indigenous knowledge.
This includes improving water clarity and pollution levels and working to eradicate predators that diminish native fish stocks and protecting the taonga species we have in the lakes.
"It's crucial that the wider community has a real understanding of the wide variety of projects underway and how they can make a difference too. The success of these hui show there is an interest from people to find out more about what's going on."
Nicki says a great example of this, highlighted at the hui, is the success of the catfish volunteer programme which has a wide range of schools and volunteers involved in netting catfish.
"Given the success of this hui it's likely we will continue to look for opportunities to host experts from across the different fields to keep our community up to date with the work. Keep an eye on the Te Arawa Lakes Trust and Rotorua Te Arawa Lakes Programme Facebook pages, for more information on these."