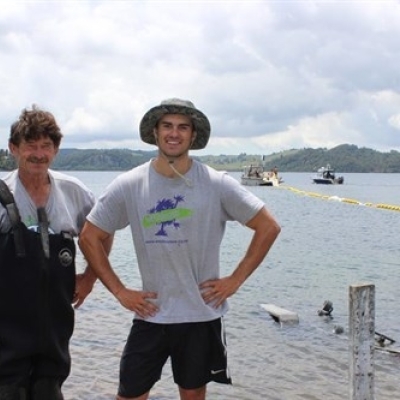 Father and son duo take hands-on approach to protect Rotorua lakes
20 December 2017
Sewing a new weed cordon for Lake Rotomā with a 60-year-old Singer sewing machine and individually attaching 700 floats and over 700m of chain with cable ties is just one of the many things local father and son duo, Geoff Ewert and son Van, do to protect our lakes.
Installed on Tuesday at the main boat ramp for Lake Rotomā, Bay of Plenty Regional Council (BOPRC) contracted Geoff to make the weed cordon, which helps keep unwanted aquatic weeds at bay, after the previous cordon was damaged in a storm earlier this month.
Geoff says his sewing skills come from his time as a sailmaker in Darwin, but only a small amount of the work could be done by machine, with the rest sewn by hand.
"My son Van helped me fasten all the floats and chains onto the netting – that was the biggest part.
"It took us 10 days straight but it had to be done. It was either get the cordon installed before Christmas or monitor the boat ramp 12 hours a day, seven days a week."
He says the weed cordon covers 100m2 of water and acts as a barrier against unwanted weeds such as hornwort which rapidly invades water, forming dense beds and shading out smaller native species, preventing them from establishing.
In 2008, Lake Rotomā was the first lake in the Bay of Plenty region to have a weed cordon installed which has since been replicated across the region.
Bay of Plenty Regional Council biosecurity officer, Andy Wills says Lake Rotomā is one of the most pristine of the Rotorua Te Arawa lakes, with no hornwort present, but unfortunately it only takes a small fragment to dislodge from someone's boat, trailer or anchor to start the spread.
He says with the holiday season fast approaching and plenty of locals and visitors alike hitting the lakes, everyone needs to play their part and be extra vigilant.
"Make sure you remove any weed from your trailer and boat to help stop the spread between lakes. The weed cordon helps to contain any weed fragments, however, it is not 100 percent foolproof," he says.
With the weed cordon now in place, Geoff and Van will continue to protect the lakes in other ways, including running the boat wash station, weed spraying and helping to eradicate catfish from Lake Rotoiti.
Van says catfish feed on small native fish and their eggs, they eat and compete with koura and stir up sediment which affects water quality – "Dad made the catfish cordon that was installed earlier this year to help contain them in Te Weta Bay and we've been pulling hundreds of catfish daily."
He says whatever people can do to keep the lakes looking as pristine as possible, it is well worth it.
"The boat wash station will be rotated around our most popular lakes during the holiday season checking you don't have any weeds hanging off your boat, trailer or other equipment.
"Rotorua lakes are a treasure for us as locals and being able to play a part in keeping them as clean as possible has been a rewarding experience."
WEED CORDON FACT BOX:
Made by hand in 10 days
Covers an area of 100m2
More than 300m in length
400m of shade cloth
700m of rope in varied thicknesses
700m of chain
700 floats
More than 2000 cable ties