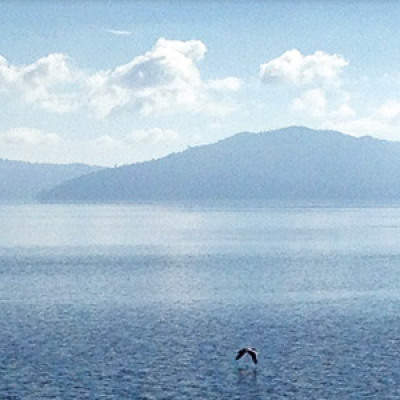 Deal a significant milestone for protecting lake water quality
14 September 2016
A dairy farmer has become the first landowner to strike a deal with the Lake Rotorua Incentives Board, a committee of Bay of Plenty Regional Council, as part of its Incentives Programme aimed at reducing nutrients entering Lake Rotorua.
The $40 million Incentives Programme, an initiative proposed by the local farming collective, is jointly funded by central government and Regional Council to compensate willing landowners in the Rotorua catchment to permanently reduce their nitrogen losses below their Nitrogen Discharge Allowance (NDA).
As part of the first incentive agreement, the sizeable farm will be converted from dairy to a dry stock support and cut and export the farm. This deal will secure 5.75 tonnes of nitrogen entering Lake Rotorua, a step toward the 100-tonne target that the Lake Rotorua Incentives Board is working to achieve.
Board Chair Judith Stanway says both the landowner and the Incentives Board have worked hard to reach an agreement that is satisfactory to both parties and is a good outcome for the entire catchment.
"The landowner has chosen an option that secures the nitrogen level in perpetuity but maintains flexibility on its future use so an optimal use of the land is maintained.
"We have begun negotiation talks with another eight landowners which could mean up to 28 tonnes of nitrogen secured by the end of the financial year.
"We are pleased with how things are tracking to date and look forward to working with other landowners to help achieve this target."
Regional Council Chief Executive Mary-Anne Macleod says the landowner's decision to engage with the Lake Rotorua Incentives Board and convert to a lower nutrient farm system is a significant step towards sustainable lake water quality.
"The landowner has made a responsible, conscious decision for the benefit of the lake, land and their business. This agreement ensures they can still create value from their land through farming but in a more environmentally beneficial manner.
"We are making progress towards protecting and enhancing our water quality in a sustainable way, and land use conversion is a good, long-term, sustainable option. We all want the same thing – clean lakes – and as a lakes community, we must work together in order to achieve that."
Additional Information
The Incentives Programme is one part of a framework of solutions delivered by the Rotorua Te Arawa Lakes Programme (RTALP) aimed at improving the water quality in Lake Rotorua. The Incentives Programme enables landowners to "sell" some of their property's NDA to permanently remove this nitrogen from entering the lake by changing the type of activity undertaken on all or part of their land.
The central government has committed $72.1 million to match Bay of Plenty Regional Council and Rotorua Lakes Council's contributions to implement actions required to protect and restore lakes Rotorua, Rotoiti, Rotoehu and Ōkāreka.
To reach water quality standards set by the community for Lake Rotorua a reduction of 320 tonnes of nitrogen entering Lake Rotorua is required. The parts of the solution for achieving long-term sustainable water quality for Lake Rotorua have been developed with the community.
100 tonnes of nitrogen reductions will be achieved through voluntary land use change (Lake Rotorua Incentives Programme with $40 million available to compensate for permanent nitrogen reductions made by landowners below what they are required to do under regulatory rules).
140 tonnes of nitrogen reductions will be achieved through regulatory rules (Lake Rotorua Nutrient Management – Proposed Plan Change 10).
30 tonnes of nitrogen reductions will be achieved through voluntary gorse conversion (Gorse Conversion Programme with $2 million available to remove gorse and convert it into low nitrogen land use).
50 tonnes of nitrogen reductions will be achieved through engineering initiatives.
Note to media: the agreement requires the landowners' identity to remain confidential.