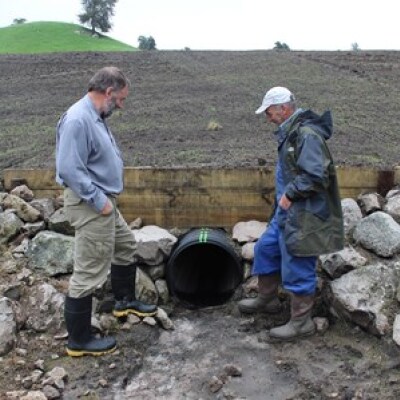 Dairy farmers take action to protect water
20 May 2016
Minimising phosphorous run-off, better managing stormwater and preventing down-stream erosion are just some of the benefits a Rerewhakaaitu farmer will soon realise, thanks to a recently constructed detainment bund.
Dairy farmers Barry and Mark Mogg approached the Bay of Plenty Regional Council late last year after learning about the benefits of detainment bunds, and are the first dairy farmers in the Rerewhakaaitu catchment to build an earth detainment bund of this scale.
"Despite the financial difficulties dairy farmers may be facing at the moment, I believe as farmers it's our responsibility to take care of the land and waterways for future generations."
Mr Mogg says being able to better manage stormwater was a big motivator.
"Our dairy shed is on a valley floor, so serious storm flooding can be a threat. By slowing down the water we'll get less erosion, less run-off and less phosphorus into the lake, while we will also see some nutritional benefits onto that bund area of pasture. It's a solution and outcome that is good for everyone."
Bay of Plenty Regional Council sustainable farming advisor John Paterson developed the detainment bund concept a few years ago. He says they offer multiple benefits and are considered a key tool in helping to restore the health of the district's lakes and waterways.
"Too much phosphorus and nitrogen in our waterways can cause toxic algal blooms to form, making our lakes and rivers unsafe for recreational use.
"In serious wet weather events, detainment bunds hold a large amount of stormwater run-off. The water forms a pond behind the bund, allowing fine sediment particles that have phosphorus attached to settle over a three-day period. During this time the phosphorous is absorbed back into the pasture, rather than entering our waterways.
"We design detainment bunds to cope with the 'mother of all storms', but the reality is that some storms may overflow. Approximately 80 per cent of phosphorus loss from the land will occur in the first 20 per cent of the storm run-off flow, so the bund will be able to catch the first flow of big events where nutrients are more highly concentrated.
"At the end of the day, it's a win-win situation – the detainment area pasture will have increased nutrient levels which saves fertiliser and the water quality downstream. In this case, Lake Rerewhakaaitu will benefit from less phosphorous leaving the farm."
Mr Paterson says Mr Mogg's willingness to install the detainment bund and allow future monitoring will be valuable for the promotion of future detainment bund construction.
"The farmers at Rerewhakaaitu are a good example of an innovative farming community who are actively working together, guided by science, to look after the land and water.
"We have conclusive evidence that detainment bunds work. The next step is to closely monitor them to determine just how effective they are in reducing phosphorous entering lakes, as part of the solution to water quality improvement.
"Every action, intervention and plan we implement is adaptive, meaning we can apply learnings from activities in different lakes, ongoing research and new science, to other locations."
Background:
The Rotorua Te Arawa Lakes Programme is a partnership between Rotorua Lakes Council, Te Arawa Lakes Trust and Bay of Plenty Regional Council, with funding from the Ministry for the Environment.
The Rotorua Te Arawa Lakes Programme is responsible for meeting water quality targets set out in the Regional Water and Land Plan for the 12 Rotorua Te Arawa lakes.
Restoring the lakes is a long-term initiative – it is not about finding quick fixes, or causing new issues while trying to solve previous ones. It is about supporting lakes that we and future generations are able to swim in, drink from and that sustain our kai.