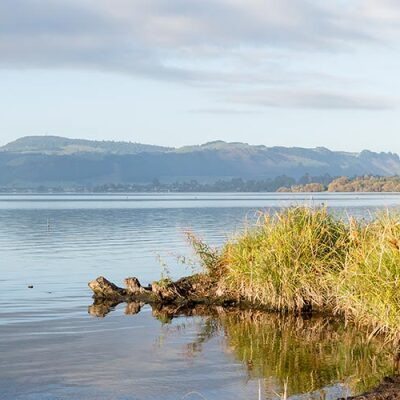 Council fund helps Rotorua farmers spread the word
27 July 2017
A farmer education project funded by the Bay of Plenty Regional Council's Low Nitrogen Land Use Fund has seen a series of ten 3-5 minute videos produced to help farmers protect water quality.
Proposed rules to help protect Lake Rotorua will require most local farmers to substantially reduce nitrogen losses by 2032.
The Good Management Practice (GMP) videos have been produced by Landconnect, and feature farmers from the Lake Rotorua Primary Producers Collective talking about various initiatives they have implemented to reduce nitrogen and phosphorus loss from their land.
BOPRC general manager integrated catchments, Chris Ingle says the videos will help other farmers in the catchment as they make changes on their own farms to improve their nutrient management practices.
"It's a great initiative as farmers in our catchment work together to improve water quality," Mr Ingle says.
Jo Carr from the Lake Rotorua Primary Producers Collective says the project was guided by the principle of 'by farmers for farmers', with Collective members contributing their time and expertise.
"The videos and support information will help farmers assess what practices might suit their farm," Ms Carr says.
"The impact of GMP is explained in plain English. The videos showcase the willingness of Rotorua farmers to share their experiences with other farmers, not only locally but across New Zealand."
You can view the video series on the Collective's website:http://www.rotoruafarmers.org.nz/gmp
Additional information
LNLUF is co-funded by the Bay of Plenty Regional Council and Ministry for the Environment.
It was established to fund initiatives that assists landowners with meeting their Nitrogen Discharge Allowance and removing 140 tonnes of nitrogen entering Lake Rotorua by 2032. A total of 320 tonnes of nitrogen needs to be permanently removed to sustainably meet water quality targets set by the community.