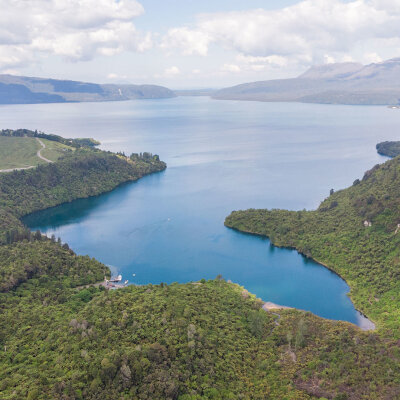 #loveourlakes Facebook Photography Competition
17 January 2020
Share what you love about Rotorua's beautiful lakes this summer and be in to win prizes including a $400 Torpedo7 voucher with the #loveourlakes Facebook photography competition.
Entries are open from 17 January 2019 to 16 February 2020.
The photo competition is being run by the Rotorua Te Arawa Lakes Programme as a way to celebrate what people love about summer at the lakes. And it's easy to enter – just share a photo that shows what you love most about our lakes on the Rotorua Te Arawa Lakes Facebook page with the tag #loveourlakes and be in the draw to win. All images should contain people in or around the Rotorua lakes.
This year we have three winning categories: overall winner, youth winner (under 16) and people's choice.
The people's choice section of the competition will see six photos chosen and the one with the most likes on the Rotorua Te Arawa Lakes Programme Facebook page will win. Voting will run from 16 February to 1 March 2020.
The overall winner will receive a $400 Torpedo7 voucher while the people's choice winner will receive $250 Topedo7 voucher.
The youth winner will receive a family pass for Rotorua Duck Tours.
Please see our terms and conditions below.
Terms and conditions of entry – #loveourlakes video and photography competition
This competition is open to New Zealand residents. Elected members, Board members, Trustees and staff of Bay of Plenty Regional Council, Rotorua Lakes Council and Te Arawa Lakes Trust may enter but are ineligible to win the main prize.
All information detailing how to enter this competition forms part of these terms and conditions. It is a condition of entry that all rules are accepted as final and that the competitor agrees to abide by these rules. The decision of the judges is final and no correspondence will be entered into. Submission of an entry will be taken to mean acceptance and understanding of these terms and conditions.
All images entries should be submitted via the Rotorua Te Arawa Lakes Programme Facebook page.
All entries must be received by 5pm 16 February 2020.
All images submitted must be the work of the individual submitting them and must not have been published elsewhere or have won a prize in any other competition. It is the responsibility of each entrant to ensure that any photograph's they submit have been taken with the permission of the subject and do not infringe the copyright of any third party or any laws. Entrants must warrant that the photograph they are submitting is their own work and that they own the copyright for it.
All images should contain people in, on or around the Rotorua Lakes.
On submission, the entrant gives Rotorua Te Arawa Lakes Programme irrevocable licence to reproduce, publish, adapt, communicate and broadcast all or part of your entry in any form and media. Where possible, Rotorua Te Arawa Lakes Programme will acknowledge the photographer where the photograph is used.
The overall prize is a $400 Torpedo7 voucher, youth prize is a family pass on Rotorua Duck Tours and the people's choice prize is a $250 Torpedo7 voucher. Prizes are not transferrable for cash.
Events may occur that render the competition itself or the awarding of the prizes impossible due to reasons beyond the control of the Rotorua Te Arawa Lakes Programme and accordingly the Programme may at its absolute discretion vary or amend the promotion and the entrant agrees that no liability shall attach to the Programme as a result thereof.
Winners will be announced on the Rotorua Te Arawa Lakes Programme Facebook page.
This competition is not endorsed, sponsored or administered by Facebook, nor is Facebook associated with the contest. Facebook is released from any responsibility to entrants or participants.