Media releases
Media Releases
Lakes competition celebrates what we love
28 December 2015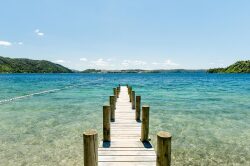 Share what you love about Rotorua's beautiful lakes this summer and be in to win a GoPro HERO and two stand up paddleboard vouchers, with the #loveourlakes Facebook competition kicking off tomorrow, 29 December.
The competition is being run by the Rotorua Te Arawa Lakes Programme as a way to celebrate what people love about summer at the lakes. Share a short video or photo about what you love about our lakes on the Rotorua Te Arawa Lakes Facebook page and go into the draw to win.
The Hits street team will also be out and about at different Rotorua lakes from tomorrow until 3 January 2016 with free giveaways.
The Rotorua Te Arawa Lakes Programme is a partnership between Rotorua Lakes Council, Te Arawa Lakes Trust and Bay of Plenty Regional Council, with funding from the Ministry for the Environment.
Rotorua Catchments Manager Helen Creagh says the lakes programme is about protecting what we all love.
"The programme is about working together to protect and restore water quality in 12 Rotorua lakes for the enjoyment and use of future generations. Its purpose is to enable a sustainable economic, lifestyle and cultural future for our lakes, which will be achieved by improving and protecting overall health and water quality.
"We wanted to create awareness around the programme and what we're trying to achieve for the future and a photo and video competition is a great way to do that, so come and get involved.
"We all love our lakes and it's up to us all to make the changes needed."
Ms Creagh says although a great deal of work has been done to-date to clean up the lakes, there is still much to do.
"Something that appears to be working well might only do so for a relatively short time. Restoring our lakes is about finding long-term solutions using the best science we have available.
"We want lakes that we and future generations are able to swim in, drink from and sustain our kai. Share with us what you love about our lakes and go into the draw to win."
The competition runs from 29 December 2015 until 31 January 2016. For terms and conditions, more information or to enter, visit the Rotorua Te Arawa Lakes Programme Facebook page.