Latest news
Latest news from the lakes...
Lakes E-Newsletters
To sign up to receive these e-newsletters, click here.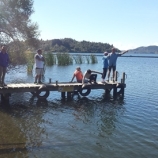 Public hearings for the Proposed Plan Change
12 March 2017
Public hearings for the Proposed Plan Change 10 to Regional Water and Land Plan, begin on Monday (March 13). Lake Rotorua Nutrient Management – Proposed Plan Change 10 introduces rules to limit the amount of nitrogen entering Lake Rotorua from land use. The rules will affect rural properties in the Lake Rotorua Catchment. Venue Millennium Hotel 1270 Hinemaru St Rotorua Independent Hearing Panel As previously announced, retired...
Progress on proposed lakeside sewerage schemes in Rotorua district
3 March 2017
Rotorua Lakes Council is progressing with resource consents for the proposed East Rotoiti/Rotoma Sewerage Scheme and a trial of Biolytix wastewater treatment units is now underway. Design work for the Rotoma piping network is also underway and the Rotoiti part of scheme can proceed following the year-long Biolytix trial. A total of 22 submissions were received to the resource consent application and council staff will attempt to meet with...