Latest news
Latest news from the lakes...
Lakes E-Newsletters
To sign up to receive these e-newsletters, click here.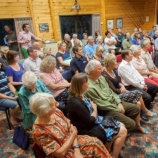 Next step towards improving water quality in Lake Rotorua
29 February 2016
The current proposed Lake Rotorua Nutrient Management rules have been formally notified by the Bay of Plenty Regional Council today, marking the beginning of an official submission period. The Lake Rotorua Nutrient Management rules are a proposed plan change to the Regional Water and Land Plan, and are one of four components of the integrated framework delivered by the Rotorua Te Arawa Lakes Programme (RTALP) aimed at improving the water...